---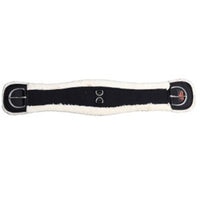 Fort Worth Fleece Lined Cinch
Description
• Fusing neoprene with heavy nylon webbing, this is an ideal cinch for roping events.
• Neoprene is quick-drying and doesn't hold debris, delivering a clean cinch ready to use again shortly after an event.
• The additional nylon webbing on either end provides strength and durability.
• Lined with a fixed, soft mink natural fleece underneath to avoid galling.