---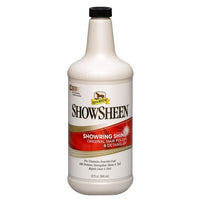 Absorbine ShowSheen Hair Polish and Detangler
or 4 payments of $14.98 with 



Product Features and Benefits
• Dries to a bright, natural sheen and brings out colour highlights.
• Keeps hair tangle-free and reduces static fly away.
• Keeps the shine for up to a week.


• Use before clipping and for removing burrs, sand spurrs, tough knots and eliminating static under blankets.

• For use on horses, cattle, dogs, llamas, pigs, camels, goats, alpacas and sheep.