---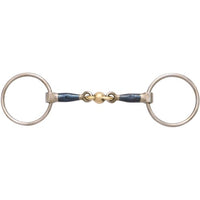 Blue Alloy Loose Ring Training Snaffle Bit
Description
• Superior quality 18/8 hand polished Stainless Steel with blue alloy mouth piece.
• The loose ring cheek has greater movement than a fixed cheek allowing it to follow the angle of the tongue which can discourage fixing and leaning.
• The loose brass allow discs in the centre can help to soothe a fussy tongued horse.