---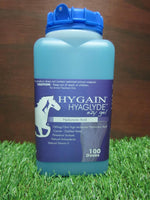 HYGAIN HYAGLYDE 1L
Features:
Hyaluronic acid supports joint and cartilage function. May assist in the prevention of inflammation of joint sites and maintains joint mobility.
Natural Vitamin E is five times more available than synthetic sources and aids in antioxidant, immune, cardiovascular and circulatory functions.
Can be administered over the tongue or added directly to horses feed. Is banana flavoured for palatability.
Benefits:
High Molecular Hyaluronic Acid
Natural Vitamin E
Dosage:
10mL per day