---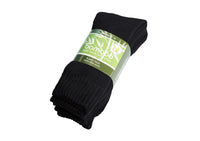 Socks Bamboo Black 3 Pack
or 4 payments of $10.25 with 

Description

Extra Thick Navy Bamboo Socks – Bamboo Textiles Premium 4 Yarn – 3 Pack

These extra thick navy bamboo socks will quickly become your new favourite socks. Super comfortable, super durable and odour resistant you really can't get better than these socks. Available in three sizes including 4-6, 6-10 & 10-14.
Why Choose bamboo for socks?
They are a natural anti-bacterial material which eliminates foot odour
Ultra fine fibre adds more comfort
Superior wicking provides dry and cool feet
The high density helps prevent blisters
They'll keep you cool in summer and warm in winter
It is perhaps not immediately noticed by someone putting on a bamboo sock for the first time that, apart from the smooth softness, you can hold the sock by the top hem and pull it onto your foot in one smooth movement until it is fully in place and there it stays. Most other sock types have to be almost 'threaded' onto your foot in several stages. Also, on principle, many people wash their socks daily because traditionally, this was the right thing to do. However, with the natural anti-bacterial properties of bamboo fibre, we have had customers report that after wearing the socks for even up to a week straight without washing, they still smell fresh.